Wompoo Eco Retreat in the Daintree rainforest is an ideal escape for couples or singles, a romantic getaway for honeymooners and for people looking for a quiet time with nature.
Our retreat is located on 5 acres of a beautiful mix of Daintree rainforest, panoramic views and open space. Ideally located close to Cow Bay beach, as well as numerous fresh waterholes, creeks, restaurants and rainforest boardwalks. It is also a convenient location to Cape Tribulation and the Daintree River.
The property features two bungalows, both are private and independent and share similar design features and guest amenities. 
Our eco bungalows are designed for guests to immerse in nature and enjoy the tropical Daintree experience.
Constructed to optimise a cool interior and to tailor expansive Daintree mountain range and rainforest views from the comfort of the bedroom, bathroom and outdoor hot-tub.
The bungalows each have private undercover
decking with seating and self-contained al fresco cooking facilities. Relax and enjoy.
At Wompoo Eco Retreat we take advantage of our remoteness and living "off the grid" by providing bird watching binoculars rather than a television.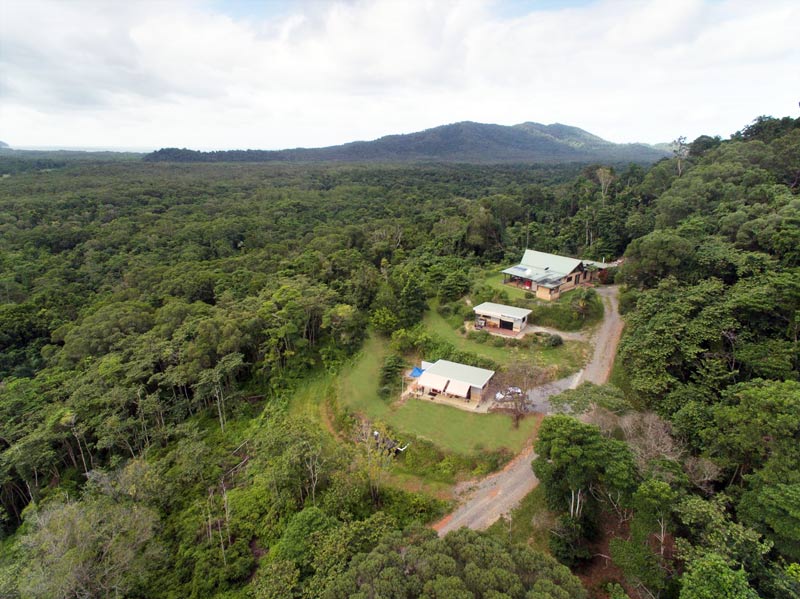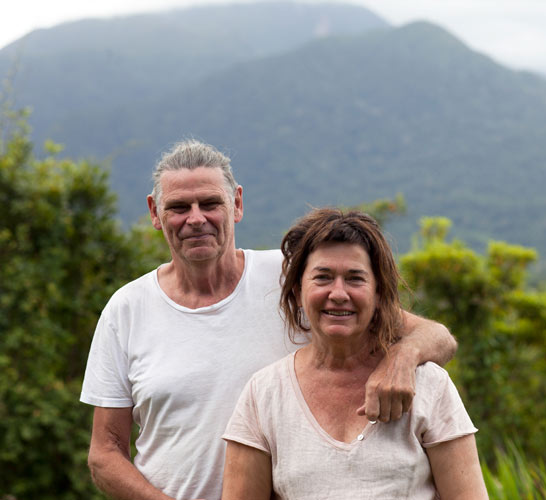 Jill and Peter have lived in the Daintree for 20 years. We have always had a vision of providing guest accommodation to enable others to enjoy this beautiful landscape. Our home is designed for tropical living and is made from `rammed earth' and timber construction.
Peter was involved in the environmental industry for 30 years before concentrating on our property, while Jill worked as a Naturopath before moving into the Community Services Sector. We both have a deep respect for the environment, a love of good food and have strong biodynamic and organic principles with regard to our lifestyle.
We are a friendly couple who respect the privacy of our guests. Our house is a short distance from the bungalows if you have any questions.
"We had a lovely stay from start to finish. The hosts are friendly and keen to give you an insight into the area. The views from the bungalows are perfect - you can see the clouds hitting the peaks and watch and listen to how the Daintree changes throughout the day. Rammed earth bath and how the bungalow merges inside and outside living were the highlights. Included breakfast was also great, lots of fruit and local tea and coffee options. A lot of eco-friendly elements as well, without hindering enjoyability of the space. We are fairly picky with choosing places (looked at just about every single option in the area) and can say this one did not disappoint and we would stay again."
"Jill and Peter were absolutely wonderful hosts and have created a little slice of heaven up here in the Daintree.

From the minute we arrived late, they invited us into their home to give us the low down on the area. They provided some local produce for breakfast which was super delicious and the accommodation is just wonderful. Comfortable King bed, delicious spring water, solar powered off the grid living in the best way!

Highly recommended. We even had an opportunity to use the outdoor bath under the stars one night which was magical.

Thank you so much for a perfect weekend!"
"Very clean and comfortable accommodation with beautiful views across to the mountains.

Great place to totally relax and enjoy the rainforest surroundings. We had the pleasure of watching two gorgeous sunbirds building their nest on the verandah.

Hosts were helpful and provided lovely breakfast and local information. Would definitely stay again."
"We had a great stay at Wompoo. Beautiful views, open bath at night star gazing and listening to the sounds of nature around was so relaxing and uplifting.

It is a beautiful place, immaculately clean and a brilliant location in midst of dense rainforest.

I would book again. Jill and Peter were great at communicating with us and checked we were OK during our stay. Highly recommended!
"We loved our stay - the breakfast was fantastic, along with the outdoor bathroom.

We were a bit worried about bugs but apart from mosquitoes, didn't really see any!

We were provided with heaps of information on what to do in the area upon our arrival, which was really helpful as we had never been to the Daintree rainforest before."